Over the years, the way we operate our businesses has changed a lot. Our rapid shift from manual labor and reliance on human input towards technology and automation has allowed our businesses to run with far more supreme productivity and effectiveness. Therefore, it can be said that now is the best time to create and run a business, no matter the scale.
Appointments and meetings are the essences of the business world. Every day, you are meeting a new client, interacting with a future partner, conversing with a new supplier, and much more. The point being; our interactions are virtually non-stop. This means we have to schedule and arrange these meetings too. It doesn't happen out of the blue that you meet a new client and close an incredibly prosperous deal. Everything is a result of planning and arrangement!
In the earlier times, we always relied on phone calls, letters, and other conventional methods of communication to schedule appointments and meetings. While yes, these are the only possibilities at that time, they were not the greatest! Things like letters and calls take time, meaning once an appointment is made, you cannot revert and make a change.
This wasn't the optimal world, right! Well, then came online appointment scheduling software that remapped how our business meetings are made. Today, since everyone uses a Smartphone held in the palm of their hand, online scheduling appointments is a no-brainer. And yes, this can be portrayed by facts too. Statistics connote that almost 40 percent of the business meetings in the modern era are all arranged and scheduled online using phones.
Appointment scheduling software has become the saving grace for the business world! Readily available internet access has ensured we dont stop using these applications. Today, all large-scale companies use these softwares to schedule their meetings with clients and employees. Plus, app developers are making these apps more than ever before, putting their own magic on top of the main functionality. For instance, these appointment apps can be integrated with the phone's original calendar app to notify you about your meetings seamlessly.
In this blog article, we will see what makes online appointment scheduling apps so special and why you should incorporate them in your business model!
What is online appointment scheduling?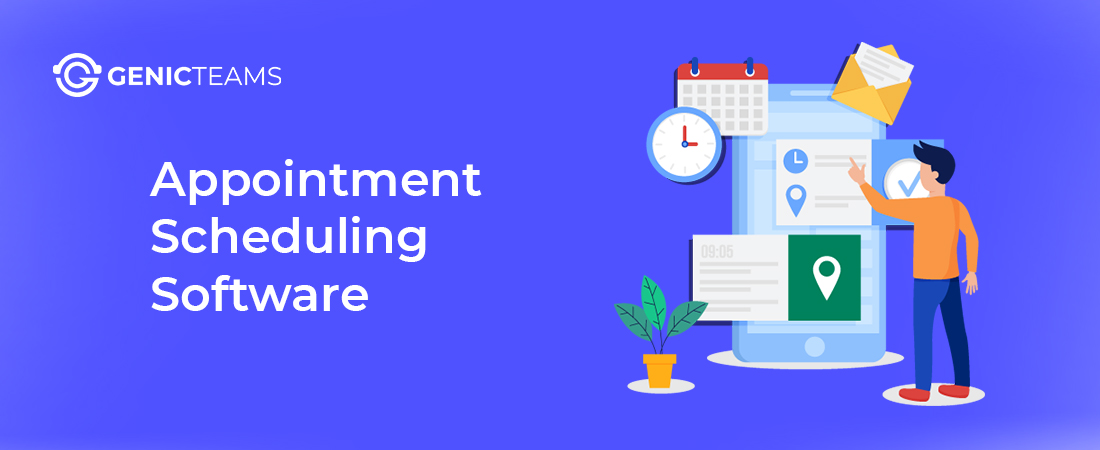 Online appointment scheduling refers to appointment and meeting arrangements done online! It is a newer way of interacting with your clients, working around hectic schedules, and creating appointments that suit everyone.
When it comes to business meetings, date and time are the keys! The appointment needs to be at a place, time, and date mutually accepted by both parties. Some eons ago, this wasn't possible because of the distance and gap between the two people. You couldn't make alterations and changes quickly, meaning even if you got an emergency, you would still have to show up!
Today, most of the business tasks are already automated. Things like inventory, field service, and database management are mostly done by computer; therefore, adding appointment scheduling only acts as icing on the cake.
GenicTeams has built customizable online scheduling apps for thousands of clients in Singapore. Our UI design experts and coders know their way around complex coding and aesthetically pleasant UI elements to create the most functional yet nice apps. If your business lacks online scheduling integration, we can be your ultimate partners to make it happen for you. Our positive customer feedback and satisfaction drive us to innovate in our software development solutions.
What is the purpose of appointment scheduling?
The sole purpose of online appointment scheduling is to make things more convenient. Since the world is heading to pursue far more accessible lifestyles, it's essential that we make our business processes easy and convenient too.
bridges the gap and time it takes to ring a call and make an appointment. This leads to better business meeting experiences! This comes in handy on tough and packed days when you may not have enough time for phone calls, so you use your phone to schedule the meeting a day later, with the peace of mind that the other party would be notified.
Main Features of appointment scheduling software
Automation
Online scheduling is meant to be smart and intelligent. One of the top features of these software systems is automation. They can learn and evaluate your behavior over time and perform specific tasks themselves. For instance, if you get a new meeting appointment, your mobile app can use the other meeting data to confirm if you will be up for it or not. If not, it can let the other person know when you would be free. Therefore, you don't even have to interact with the app or software yourself; all of it can be done behind the scenes.
Reminders
Peep, and you know it! One of the best things about scheduling apps is that they have real-time notifications. You can be notified the moment your client schedules a meeting or sends a request. Instant messages and comments can also be a part of the app, which allows you to know about your next meeting in advance.
Calendars
Appointment apps can be made a part of the bigger picture. They can be integrated with your entire business model, helping you connect to your employees. With a personalized and customizable set of calendars, every person in the office can know about their meeting in advance.
Plus, these apps allow your employees to connect. They can know when their team members are free for discussion, consultancy, and work. This ends the need to send emails, instant messages, and calls which can take quite some time in the long run.
Plus, having personalized calendars allows everyone to be on the same page without communication gap problems.
Team management
Appointment scheduling apps are great when there are multiple teams within a company. Even if these teams are dedicated to different geographical locations, they can still interact and communicate with each other. This leads to greater cohesiveness and unity as a team.
Easy booking
These software solutions let you book, manage, and after countless appointments and meetings with the touch of a finger.
Online appointment scheduling – Advantages
Tailored bookings
Online appointment scheduling has brought a ton of flexibility to our meetings. It allows your clients to conduct meetings with whoever they want in the office, rather than being limited to doing it with a single specified person.
Therefore, bringing such software systems to your business is a great initiative. It will enable greater customer experience and satisfaction!
More revenue
Using online scheduling, you can avoid being told that a certain employee didn't interact with your client very well. These things happen when employees are suddenly told about new meetings. However, since appointment apps let your team members know everything in advance, they will focus and commit themselves to the client more.
More visits by the customer
All customers seek transparency! If they know for sure that your team members will be ready for the scheduled meeting, they will enjoy being at your office. This will also increase the odds that they will visit again.