What is Field Service Management?
Any service that is performed in the field comes under the category of "field service".
It is a dream for every entrepreneur or businessperson, despite the scale of their work, to have an efficient, cohesive, and interconnected system in which one aspect correlates to the other.
FSM makes that possible by digitalizing the field operations and letting them correlate with one another. It allows a person to group the field resources into one convenient place, manage duties, track vehicles, receive job status, integrate quotations, and control several other aspects.
A field service management software is a technological solution, allowing the company to coordinate and connect various field operations. It can be helpful in scheduling service orders, assigning jobs, tracking locations of the workforce, dispatching vehicles, and managing the warehouse. But it is primarily responsible for bridging the communication gaps and automating the crucial processes in field service.
Benefits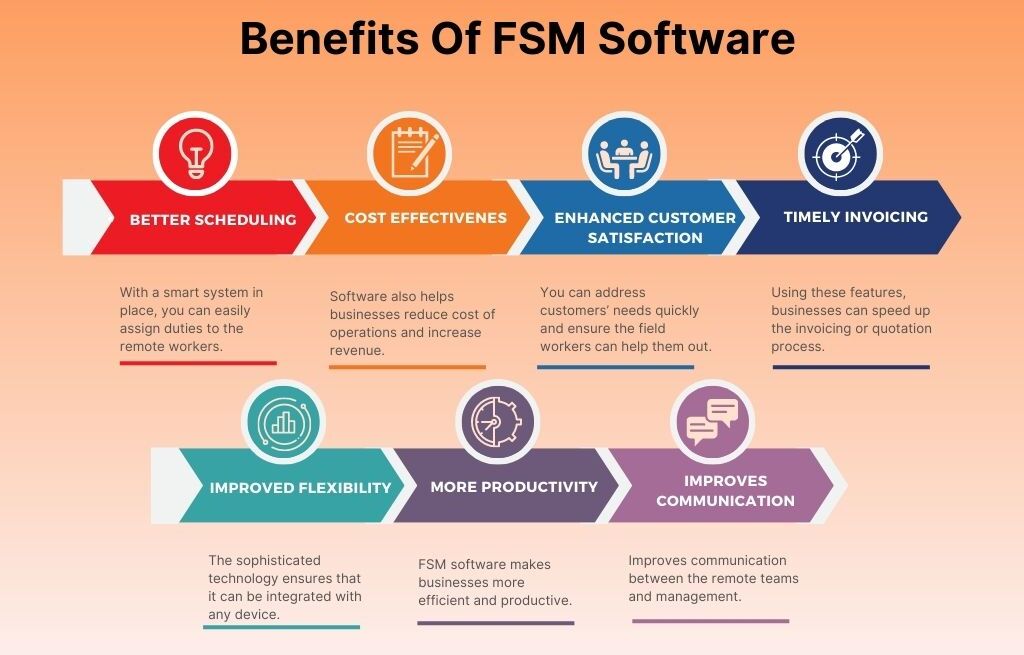 Here are some benefits of managing field work with software, which are beneficial both in the short-term and the long-term.
Many companies face challenges in managing their workflow, especially when schedules overlap, and it becomes challenging to communicate with all the field workers to re-assign the tasks. However, with a smart system in place, you can easily assign duties to the remote workers.
Software also helps businesses reduce operational costs and increase revenue. Features like GPS and route calculation help the workers choose a feasible direction that is free from traffic. In this way, field workers can save on fuel and time.
Enhanced customer satisfaction
Customers can make or break a business, making their satisfaction a top priority. Using field service tracking, you can address customers' needs quickly and ensure the field workers can help them out.
This system comes with features, such as e-signature and template building. Using these features, businesses can speed up the invoicing or quotation process. For instance, if your technicians have to generate an invoice on the field, they can use the template with all the job details, employ the e-signature, and finalize the deal with the customers.
The sophisticated technology employed in a field service management system ensures that it can be integrated with any device. So whether you want to manage the entire system from your desktop or on the go, the system can be used with any kind of device.
Without a doubt, FSM software makes businesses more efficient and productive. This is because companies can automate redundant processes and enhance collaboration. It can also solve numerous operational issues, such as customer complaints and delays in work.
The software also improves communication between the remote teams and management. In order to facilitate the job, technicians can immediately communicate with customers and management, obtain electronic signatures, and follow instructions.
Features to Look in Field Service Tracking Software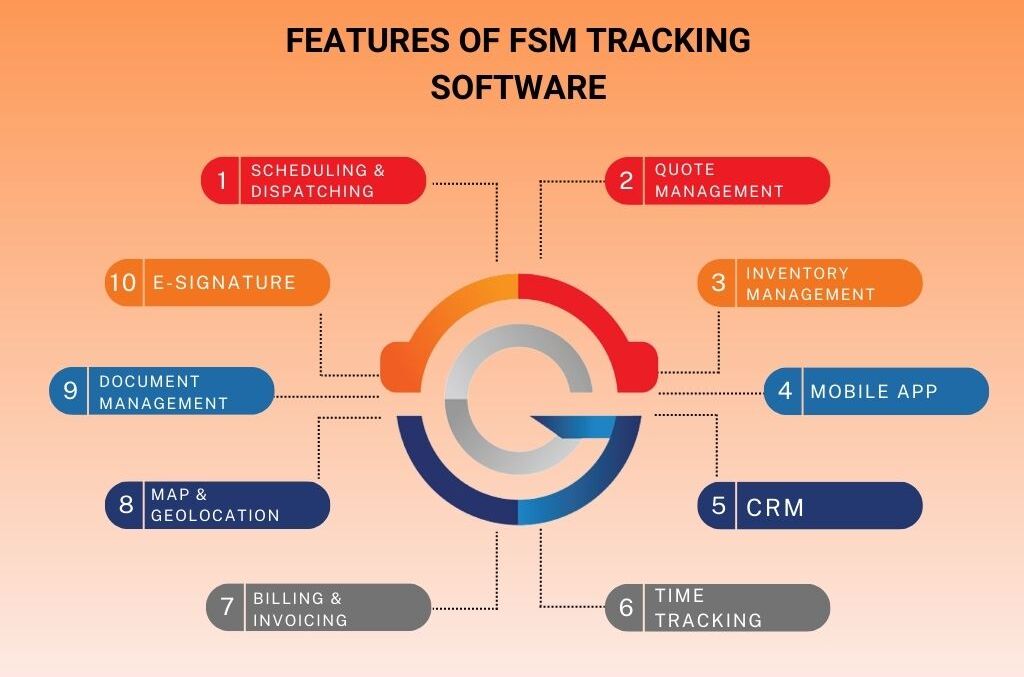 This software comes with lots of mini-tools that make up its core functionality. Understanding these features can help you realize why this software is vital for your operations.
Scheduling and Dispatching
Scheduling & Dispatching is a crucial part for Smooth operations that require efficient scheduling because it makes it possible to set the schedule of the workers, reschedule the jobs even at the last minute, and keep track of everything without the need for pen and paper.
The built-in quoting system makes it easier for customers to schedule appointments online. Technicians can provide quotes to customers, apply special pricing and taxes, send emails to customers, and add job tasks through the portal. Accordingly, the entire administration process can be streamlined, ensuring efficient services to the customers while making it easier for the field service team to undertake its duties.
A crucial feature that separates this automation software from all the other technological solutions is an effective inventory management system. Businesses significantly depend on the use of inventory. And this system relies on the inventory management feature, which can improve the flow of the business.
It usually comes with mobile-first interface and cloud-based features, so teams can manage their operations from remote locations as well. Using a field service management app, technicians can view their scheduled jobs easily from their phones.
Customers are central to all businesses, regardless of their aims, objectives, size, and nature. In this regard, the FSM is concerned with enhancing customer relationship management. By bringing all the customer data together in one place, FSM makes it easier for the field team to provide efficient customer service.
As a full-fledged solution, FSM technology makes it easier to keep track of the entire team. The technology allows the management to see information, such as the check-in and check-out of the team, travel time, break time, and the duration required to complete a task. This information can improve the efficiency of the team, enhance workplace productivity, and quickly evaluate the performance of all the individuals.
With the billing and invoicing feature, you can create, manage, and update the invoices of  customers and vendors easily. Using the automated email notifications, customers can be reminded about the payment, while the team can be informed about the progress of the billing process. Auto email templates can be used to create invoices at a fast pace, ensuring efficient customer service.
Businesses require knowledge of their on-field employees in order to see where they are located, how they are conducting their duties, and whether the work is progressing efficiently or not. Identification of their positions can also help in evaluating their work progress.
An efficient FSM also makes it possible to manage business documents and sheets from a single platform. You can easily collect, use, and store all the information by tracking the documents in one window, synchronizing everything, and reducing the chances of errors. You can also create folders, upload various file formats, and keep everything completely secured with the document management feature.
Software comes with additional features that can help the business substantially. One such feature is e-signature which makes it easier to sign important documents. In this regard, operations can become more timely and efficient without any chance of errors.
Industries Using FSM Software
This management tool can be used by all the critical stakeholders of the company, such as dispatchers, customer experience staff, technicians, managers, and customers. Some industries where this software is becoming common include:
Retail
Foodservice Equipment
Industrial Equipment Servicing
Packaging & Shipping
Building
Explore The Transformative Benefits Of FSM Software For Your Business Growth
Why FSM System Is Important To Small Business
Resource Allocation Optimization
Businesses can optimize resource allocation, ensuring that field technicians are deployed effectively and travel time is minimized. Efficient communication channels within the system facilitate seamless interactions between the field technicians, office staff, and customers, leading to enhanced customer satisfaction and loyalty.
It enhances productivity and time management. By automating task management, businesses can eliminate manual processes and reduce the chances of errors and delays.
Team Performance Evaluations
This enables them to track and evaluate their performance, identify areas for improvement, and make informed decisions to drive business growth.
Use of this software can also lead to cost savings and a positive return on investment (ROI). By eliminating paperwork and manual processes, businesses can save on administrative costs and reduce the chances of errors.
As small businesses expand, the system can accommodate increased service demands and support business growth goals.
Steps To Choose The Best Software for Field Service
Choosing the right system for your business can be tedious, so we have shortlisted some points that will help you make the right decision.
Identify The Areas That Require Improvement
Start by pointing out the areas that need improvement, and try to be more specific in listing your problems so you can invest accordingly to overcome every issue.
Identify The Primary Service Characteristics
The capabilities of the application are dependent on the primary service characteristics of a business. Such as:
– Size of business
– Overall Service offerings
– method of delivering the services
– The total number of employees
Identify The Impact Of The Software
Once you have identified the areas for improvement, the next step is to identify the impact of software on those areas. Imagine how appropriate software will make a difference and drive efficiency in your business.
Check The Hardware That Supports The Software
To ensure successful integration of software, the selection of hardware matters, as you have to connect to your technicians through various devices. Similarly, the selection of an operating system is also crucial and you must choose a software solution that supports across various platforms such as Microsoft, iOS, MAC and Android, etc.
Check The Integration Capabilities With Your Current Software
When you go about selecting field service management software for your business, you must ensure that the software keeps up with your current workflows. Moreover, it should also have the capability to integrate with payroll platforms, accounting systems, etc.