Small businesses will typically manage their field service activities using manual methods. Whiteboards, spreadsheets, and good old-fashioned ink and paper are all being used. Although manual methods are less expensive in the short term, they may hinder a company's growth and revenue production in the field service industry.
Customers nowadays expect a more automated experience. When it comes to arranging maintenance and repair work, 89% of people are willing to pay more for modern, on-demand scheduling technologies.
This is where a specialised Field Service Management Software (FSM) solution can be useful!
Small service teams can function more effectively and enhance their service delivery with access to team dashboards, shared calendars, and on-demand customer information.
How Can FSM Benefit a Small Company?
Minimise the Cost
Money is crucial for small enterprises. Saving money is important since it has a direct impact on managing expenses, generating revenue, and overall profitability. This management tools will help you in multiple situations and provide valuable benefits like:
Equipment Tracking: Small firms can reduce the risk of loss or misplacement and the requirement for expensive replacements by keeping track of their equipment correctly.
Spare Parts Management: Making sure that spare parts are available for jobs helps to save delays, prevents extra expenses, and prevents customer dissatisfaction.
Real-Time Data and Reporting: Small firms may make more informed decisions with access to real-time data and reporting, which improves operational efficiency and lowers costs.
Skilled Employees Assignment: Proper assignment of skilled employees to jobs helps reduce costly revisits and ensures jobs are completed effectively and efficiently the first time.
Lower the Risk of Errors
Dealing with scattered data is one of the common issues faced by small field service organisations. Statistics show that 52% of field service companies keep a job, work order, technician, and client data on spreadsheets and whiteboards, which results in fragmented information.
Furthermore, 88% of spreadsheets have some kind of error. But by implementing a field service management system, firms can organise their data into a single, simple dashboard, reducing clutter and assuring proper data management.
How Can FSM Benefit Small Team Managers?
Efficient Tracking of Off-Site Technicians
For team leaders, managing field workers can be difficult, especially when it comes to locating them. Field Service Management Software makes it easier for them by providing features like live calendars, route optimisation, and GPS tracking.
The utilization of these functionalities enables supervisors to effectively monitor various aspects of technicians
Monitor technician arrival times
Tracking their travel patterns
Identifying nearby technicians who are readily available for new job
This improved insight makes it possible to allocate resources effectively and enhances overall field service operations.
Improve Communication and Team Collaboration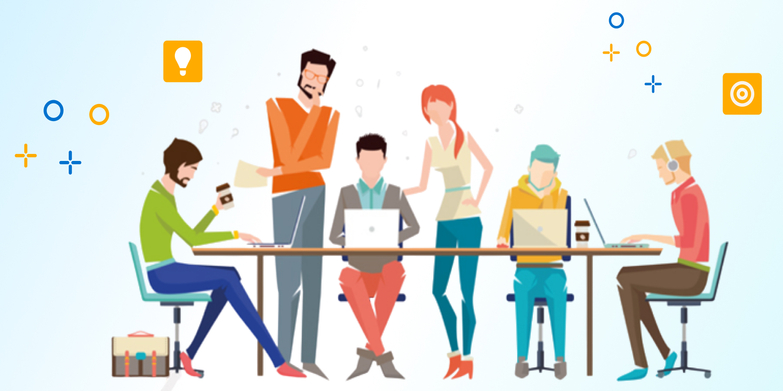 Lack of communication can have a major impact on small teams. Office employees, team leaders, and field workers frequently speak on the phone or wait until they are present. This can take a lot of time and result in incomplete information.
The goal of field service management software is to eliminate this by providing access to a common dashboard for everyone. All client, job, and billing data are kept together in this. In other words, team members can coordinate job assignments and billing.
Eliminate Paperwork
FSM tools are made to digitise and securely store data. As a result, there is less paperwork, which enables firms to go paperless. In addition to taking up office space, excessive paperwork can also hinder and delay operations.
Instead, invoices, work orders, and SLAs are kept in a system that is quick and simple to use.
How Can a Software Benefit Field Technicians and Office Employees?
Provide Better Job Visibility
Field employees must have a clear understanding of their tasks to work well and make fewer mistakes. Time can be wasted, and frustration might result from outdated or incorrect work information. In fact, a survey conducted in 2019 found that 45% of mobile workers lost a lot of time as a result of these problems. Making sure job visibility for small businesses to prevent delays and keep customers happy.
Small businesses can optimize their operations and deliver efficient and precise services by providing technicians with essential information in advance.
Equipment requirements
Availability of necessary components
Spare parts for first-time fixes
Customer location information
Job type specification, such as, providing technicians with clear specifications regarding the type of job (e.g., installation, repair)
Read More: Planning Well To Improve Efficiency
Faster Job Completion
Unpaid invoices and late payments are common problems for small firms, which cause stress and impact their cash flow. Adopting a digital invoicing system is the answer to solving this problem. Businesses can ease the hassle of collecting payments and speed up the task completion process by employing such a system.
When a service is over, technicians may quickly create an invoice and take payment, enabling them to immediately begin working on their next assignment. By offering a seamless payment experience, this effective invoicing procedure not only increases cash flow but also boosts client happiness.
Conclusion
Field Service Business Management Software is a game changer for small businesses in the field service industry. It can ensure that operations are streamlined, efficiency is increased, expenses are decreased, communication and teamwork are improved, and client satisfaction is increased. Small firms can acquire a competitive edge, increase their profitability, and succeed in the field service sector by embracing technology and utilising FSM software.