Many companies that send employees to off-site locations to perform jobs — such as plumbing, HVAC, utilities, cleaning, ride-sharing, and many other industries — often face similar field service issues when it comes to managing daily operations.
Anything may happen in an instant while teams are on the field. Services suffer, client experiences diminish, inventory is improperly handled, and teams are left to operate in the dark if managers and technicians lack the situational awareness to understand where they are in the bigger picture or to communicate instantly from any location.
Managers and technicians need access to real-time data and notifications in one place when the unexpected happens so they can stay informed and keep things moving regardless of any challenges that may arise on the job. This is where field management software makes it simple and real-time to collaborate and coordinate at every workflow stage!
Challenges Faced by Field Service Companies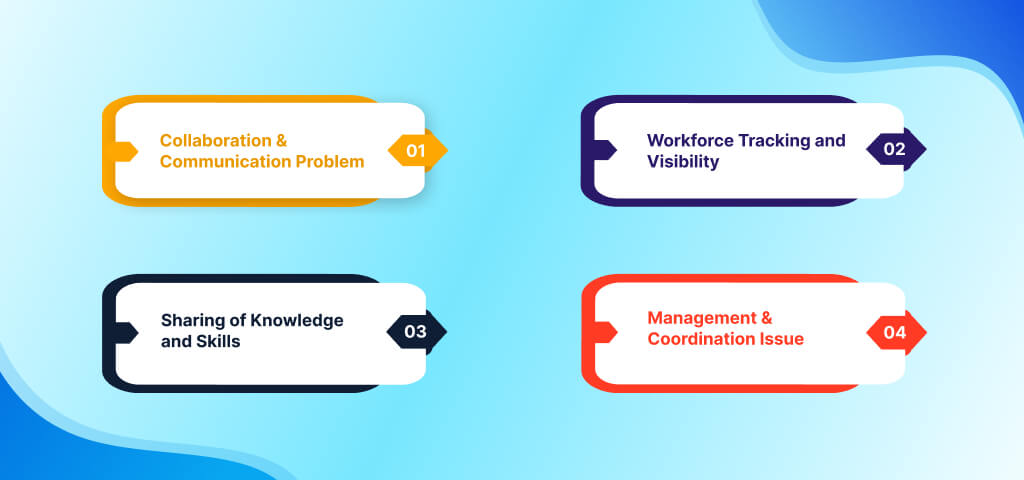 Challenge 1: Collaboration and Communication Problem
Remote teams must effectively communicate and collaborate to provide high-quality service. Collaboration and information sharing may be hindered without the right platforms and tools, resulting in delays and mistakes. Field service management demands seamless contact between field technicians, supervisors, and support staff to maintain smooth operations and speedy issue resolution.
Challenge 2: Workforce Tracking and Visibility
It is crucial to track remote workers' location, availability, and progress for effective resource allocation and scheduling. Organisations may have trouble keeping track of field technicians without an effective system in place, which could lead to lower productivity, missed deadlines, and poor customer service.
Challenge 3: Sharing of Knowledge and Skills
Sharing knowledge and abilities among team members becomes more difficult in a remote work environment. Site technicians could run into unusual situations on the field that call for advice from their colleagues or access to a centralised knowledge source. Organisations face the risk of losing significant insights and best practices without the proper mechanisms to support knowledge exchange.
Challenge 4: Management and Coordination Issue
Coordinating and optimising the schedules of field technicians can be challenging, particularly when working with a large number of service requests, a variety of technician skill levels, and different geographic locations. Ensuring timely dispatching is a never-ending task while reducing travel time and expenses.
Effective FSM Solutions for Better Field Workforce Management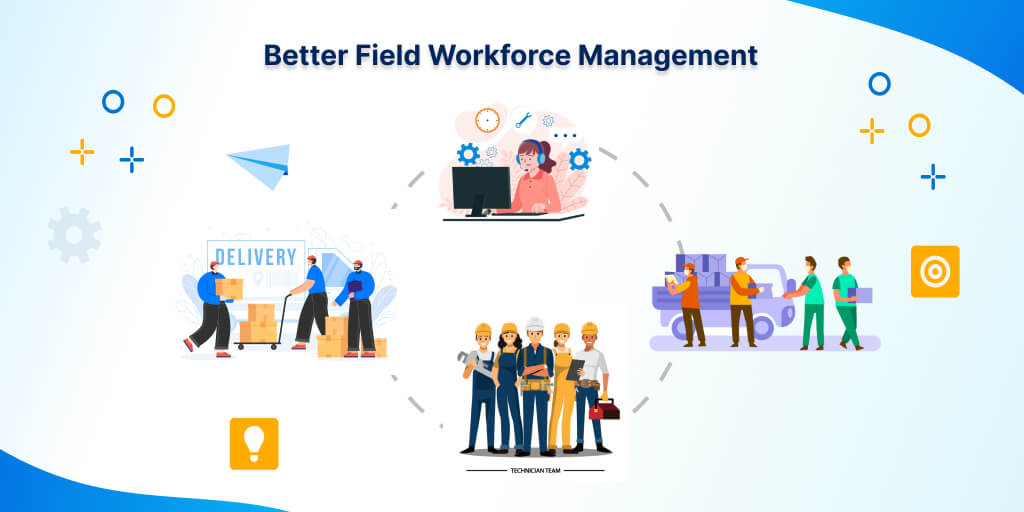 Advanced Field Service Management Platforms
Using robust field service management software, like Genic Teams, can help remote staff overcome several difficulties. This system enables enterprises to improve collaboration, increase productivity, and save operating costs by providing real-time communication, centralised data storage, and optimised workflows.
Mobile Connectivity and Applications
The field tracking management platform's integration with mobile applications for field technicians improves their connectivity and productivity. While on-site, this application enables technicians to access work orders, customer data, and instructions, ensuring accurate and efficient service delivery.
Performance Reporting and Analytics
By implementing time tracking software, organisations can track important metrics like response times, first-time fix rates, and customer satisfaction levels. Making informed business decisions and identifying areas for improvement are all made possible through analysing these data points, which also helps maximise resource allocation.
Work Order Management
With a field service scheduling software, schedulers and dispatchers can now monitor automatic scheduling from any location. Real-time push notifications reduce the burden on customer support, and customers receive quick updates on the site workers who have been allocated to them. FSM software synchronises work orders to prevent agent shortages or increases in site demand.
Real-Time Collaboration
One of the key components of remote work is collaborative competence. The team communication software makes it easier for field agents to work together seamlessly and offers crucial interactive technical support when and when it's needed. Working remotely is made simpler by real-time collaboration, which also prevents downtime and utilises resources more effectively.
Processing Payments Accurately
By automating the invoice and payment procedures, field service management software also makes it easier to process payments and invoices. Payment processing is made simple thanks to contactless payment methods, synchronised transactions, and updates to the customer's database.
Read More – Profit-Boosting Solution For Small Businesses
How Genic Teams FSM Ensure Better Team Management?
Genic Teams FSM Software is designed that helps field service organisations improve team management and streamline operations. It offers a variety of features and capabilities that provide effective communication in business, increased productivity, and increased customer satisfaction. Genic Teams FSM Software can enable improved team management in the following ways:
Enables anytime and anywhere communication with team members;
Improves time management with a built-in calendar for task scheduling;
Improve technician's management and control (for instance, by showing the status)
Increases efficiency during the entire working process and enhances quality so that tasks are always finished on schedule without any error.
The Genic Teams Software is essential in addressing the challenges that field service companies face. The system allows teams to work effectively, enhance customer experiences, and maximise their overall performance by providing comprehensive solutions for scheduling, communication, data management, analytics, and more.